Eyebrow Eyelash Tinting
---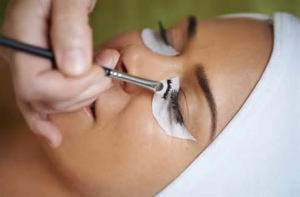 Eyebrow and Eyelash Tinting
Just like having your hair colored, brow tinting changes the color, adds the illusion of thickness and dimension.
Price: $45.00
You simply want to enhance your looks
Your eyes are gorgeous, and your lashes too. But imagine what professional eyelash tinting and eyebrow tinting will do for the depth and color of your eyes and the definition of your face. And if you simply can't stay out of the water, imagine not needing mascara.
Eyelash tinting involves carefully dying the lashes with safe, natural tints, to give them a natural, luscious, darker appearance. Many different eyelash and eyebrow tint colours (including blues, browns, blacks and greys) are available so we can complement your skin and hair coloring perfectly
Expect the tint to take about 20 to 30 minutes. While the results may vary, just like regular coloring a touch-up may be necessary between 4-6 weeks
Lash and brow tinting is not for everyone. If you have an allergy to hair dye or are easily irritated by color additives, this treatment would not be for you. Also, if you are currently suffering with an eye infection skip the idea until it clears up.
You've got very fine eyebrows – an eye brow tint will
You simply want to enhance your looks
You don't like the 'panda eyes' that can result with mascara
You're a contact-lens wearer who's tired of the hassle of applying mascara!